The average transfer value of Manchester City's first team squad members estimated by means of the exclusive CIES Football Observatory algorithm reached a record high of €62.9 million. This is the greatest value measured at big-5 league level ahead of Barcelona (€55.3m) and Tottenham (€51.3m). The figures for all big-5 league teams are available in issue number 226 of the Weekly Post.
​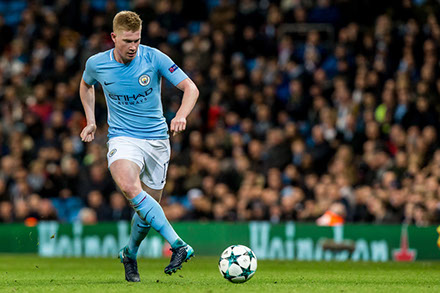 English Premier League economic power, outstanding performance, long-term contract duration and youthfulness are the key criteria explaining Manchester City's first position. Seven of their players have an estimated transfer value of more than €100 million: Kevin de Bruyne, Leroy Sané, Raheem Sterling, Gabriel Jesus, Ederson Moraes, Bernardo Silva and Sergio Agüero.
Among the 31 teams whose players have an average estimated transfer value greater than €10 million are nine clubs from the Premier League, eight from the Serie A, six from the Liga and four from both the Bundesliga and the Ligue 1. The lowest ranked Premier League team, West Bromwich Albion, is 55th out of 98. This also reflects the economic dominance of the English top division.
Average transfer value of big-5 league players, by club (€ million)
​